What the title says.
And, this is also yesterdays steal of the week! Stupid me forgot to put one up. I have a few nice products for you today:
1) The St. Ives Green Tea Scrub
Pros: Clears skin while being gentle, exfoliates, reduces redness, only $3-$4 at your local drugstore.
Cons: If you don't thoroughly rinse after using, the product will become white and pasty on your skin!
So I kind of love this stuff. A lot. It's wonderful! Smells good too. Green Tea is famous for reducing redness, and this scrub encompasses that AND exfoliating power. Worth all 400 pennies.
2) Urban Outfitters' Nailpolish in Orange 6 and Purple 7
Pros: Thick - only need 1-2 coats, pretty pastels, $5 each, nice bottles with designs on the sides.
Cons: I don't have any!
A lovely way to get your fall colours in a little more of a girly fashion. I ADORE these very very much.
I must also admit that when I went to Urban Outfitters... I splurged. Very badly. I've often thought of taking the Wardrobe Refashion Pledge but I love to shop far too much. But, in my defense, i bought some seriously cute things. Expect outfit posts later.
Lastly, I know I have yet to make the headbands. I keep completely forgetting, and they have been put on the backburner. The next DIY project will be a designer knockoff!
J'adore Comme des Garcons! They make some seriously cute things. I will take their famous heart tees and make the design even better, all for under $5.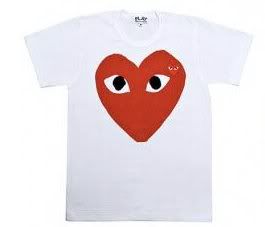 Expect it!
--